Health Pro Physical Therapy
HealthPro Physical Therapy's philosophy is to provide the latest proven therapeutic approaches toward rehabilitating orthopedic musculoskeletal disorders affecting the neck, back, shoulders, elbows, hands, hips, knees, and ankles. Such disorders may result from acute injuries, accidents,work-related injuries, athletics, chronic conditions, or be age-related. While treating your physical disorder, we also emphasize return to work issues and your sport/family specific goals. We are focused on you.
Click here to download the Physical Therapy Forms.

We accept most major types of insurance as well as personal injury cases, worker's comp cases and cash payment plans. Stop in and stop living in pain.

Meet Chadd Duncan, MPT, CSCS
Chadd Duncan is a native of Houma and a 1991 graduate of Vandebilt Catholic High School. He received his undergraduate degree (BS – Biology) from Nicholls State University in 1996. Chadd went on to earn his Master's Degree in Physical Therapy from Nova Southeastern University in Fort Lauderdale, FL in 1999.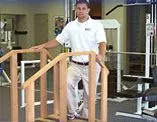 Returning home in 2002 Chadd teamed up with Dr. Patrick Haydel to run the physical therapy department at HealthPRO Wellness Center . His experience consists of geriatric rehab, wound care, neurologic and cardiopulmonary rehab but specializes in sports and orthopedic rehabilitation. Chadd continues his education with ongoing courses in the field of physical therapy and sports conditioning. In April 2007 Chadd became a Certified Strength and Conditioning Specialist (CSCS) recognized by the National Strength and Conditioning Association (NSCA).