Neck And Back Pain
Treat Neck and Back Pain in Houma, LA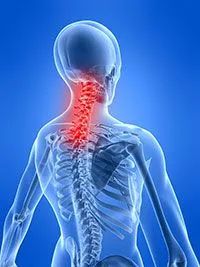 Your cervical spine connects your brain stem to your spinal cord. It is an area rich in blood vessels and other soft tissue, such as ligament and tendons. Neck pain is slightly less common than back pain, but no less important or treatable.
Common causes of neck pain include, but are not limited to:
Cervical herniated disc.

Cervical stenosis, which is caused by a herniated disc or degenerative joint, can cause pain to radiate down the arm, and lead to shooting pain and coordination problems in the arms and legs.

Muscle strain degeneration of the facet joint cartilage.

Osteoarthritis of weight-bearing joints, such as hips and knees.
A sprain of the muscles, ligaments, or tendons in the neck area usually causes acute neck pain. Vehicular accidents, repeated carrying of heavy items (such as luggage), or awkward sleeping positions are often the culprits. Most minor ligament or tendon injuries in the neck will subside with proper care, including rest, ice or heat application, and rehabilitation such as chiropractic care and physical therapy.
One common symptom of chronic neck pain is an ache that radiates down the arm, sometimes into the hands and fingers, accompanied by numbness or tingling. Foraminal stenosis, a condition caused by degenerative changes in the neck joints, involves a herniated disc or a pinched nerve. This in turn causes chronic neck pain.
Back Pain
Eighty percent of Americans experience one form of back pain or another during the course of their lives. More men over the age of 45 are disabled by back pain than any other condition. It is the third most common reason for surgeries. Because of this, people complaining of back pain cannot be easily diagnosed. This is because the spine is such an incredibly complex structure of bones, muscles, nerves, joints, tendons, and ligaments. Injury or disease affecting any one or more of these structures can often trigger an episode of pain.
Lower back pain is often caused by a muscle strain. The erector spinae, or large paired muscles in the lower back that help keep your spine erect, can become inflamed and spasm. In more serious cases, the pain may be caused by a degenerative condition, such as arthritis, disc disease, or disc herniation.
A degenerative disc condition can sometimes cause a chain reaction of other events in your spine. When a disc is not in its proper place, or is malformed from disease or some other condition, it can allow additional undue pressure on other healthy structures, such as neighboring discs, nerves, muscles, joints, ligaments, and tendons.
Rest, ice or heat therapy, and over-the-counter anti-inflammatory medicine, such as aspirin, are often the first course of treatment for mild lower back pain. This allows your muscles to return to their normal position and begin to heal.
Because the thoracic spine is the sturdiest part of the spine, it is less prone to injury. That said, upper back pain, while less common than lower back pain, is often caused by irritation of the muscles or a problem with a joint. Other less common causes of upper back pain include herniated or degenerative discs.
However, rest for a sore back should be kept to no more than two weeks. Otherwise, the muscles in the lower back begin to atrophy and can become significantly weak, leaving you open to further undue pain and injury.
Interested in treatment for Neck and Back Pain from Haydel Chiropractic?
Call our Houma, LA office at (985) 872-5777 today!